BEHIND THE SCENES – DURBAN FASHION FAIR FEATURING PALEDI SEGAPO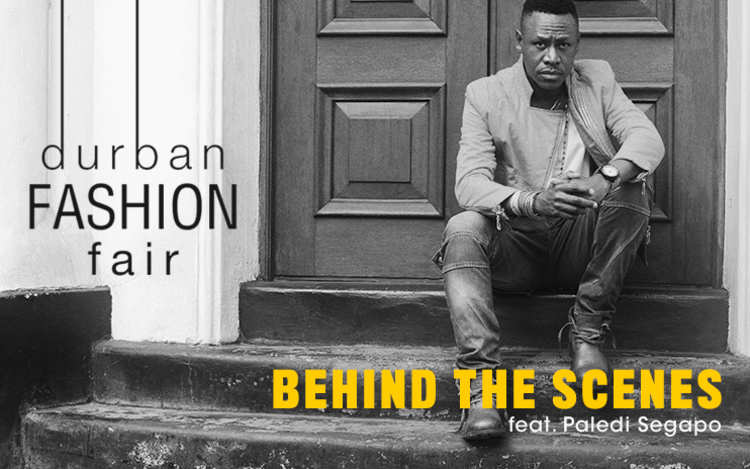 DURBAN FASHION FAIR FEATURING PALEDI SEGAPO
Designers, makeup artists, hair stylists and fashion enthusiasts alike, all gather in one place to celebrate their love for fashion. Runway shows play a pivotal role in the fashion industry. This is where a designer's vision comes to life for the world to see. We went behind the scenes at the Durban Fashion Fair to see how all aspects culminate it what ends to be an out of this world spectacle of fashion. 
Upon speaking to stylists and dressers at the show, they all shared the similar sentiments – working in sync and harmony to reach a unified goal. The show dressers, whose aim is to assist models in getting dressed before they walk onto the runway, said it's all about the rehearsals and timing (as it is crucial for an uninterrupted runway flow). These rehearsals prepare the designer, stylist and dresser to make crucial on-the-day decisions to ensure a "show time" success. 
Hair stylists and makeup artist work hand-in-hand with designers to create an aesthetic that ties in with the style and feel of the entire show, but more importantly the clothing line. The looks, more so accessories, selected for each model are done in such a way as to compliment the clothing in subtle manner as not to distract from the clothing line itself, and to attribute to the overall performance. Planning and attention to detail must be immaculate, and that is that why teamwork and working in unison is of utmost importance. 
This is what designer and CAT ambassador, Paledi Segapo had to say about Durban Fashion Fair, his collection and his advice to up and coming designers.
---
What has been the highlight of your experience putting together the collection presented at Durban Fashion Fair?
---
One of the highlights is when customers start with engaging me, with interest to acquire the collection. And it's especially funny when they start asking for CAT footwear price list. That always leaves me with a feeling of "mission accomplished", and we are able to stay current, relevant and of course, to entice the new market particularly.
---
Do you make any changes on the day (of the show) to garments or accessories?  
---
There's a profound amount of planning that goes into preparing a show - From styling to locking the number of looks to be showcased, as well as the type of models. There are no shortcuts and no designer will be leaving anything to chance.
---
What inspired your colour choices or fabric choices particularly with this collection?  
---
Travelling. I draw a lot of inspiration from travelling; being out of the country. I'm trend-driven. I make clothes that, one way or another, resonate with the brief of what's unfolding internationally on the runways. It's important to understand the brief, because that helps you to design the clothes of the future now. The consumer won't grasp it right now, but in time they will.
---
Who is your personal style icon?  
---
My style icons definitely are David Beckham and Ozwald Boateng.
---
Does hair and makeup influence the way your designs are presented or does the outfit inform hair and makeup?  
---
Styling, hair and makeup can make or break the collection. It's pivotal to create a generic harmony and to put a strong emphasis on the collection. At the end of the day, the shows is about the clothes after all… It's not a hair and makeup show. However, these are all encapsulated to create harmony.
---
What are your favourite things about showcasing in Durban, and what is the Durban fashion scene like compared to JHB and CPT? 
---
The Durban Fashion Fair is a platform that's very extreme in a sense, as it focuses on emerging talent and established designers. On the contrary, other fashion weeks primarily attract established designers. Any fashion week that is run professionally is good for the designer, their brand and its visibility. In a sense, you're able to tap into new audiences and most importantly create brand existence if not awareness.
---
What advice would you give to aspiring designers wanting to enter the South African fashion industry?  
---
Don't be in a hurry to grow.
---
What do you feel you have contributed to the South African fashion landscape?  
---
The race has just begun… and we haven't approached the finish line yet.