Braai Boldly: Braai Gadgets and Recipes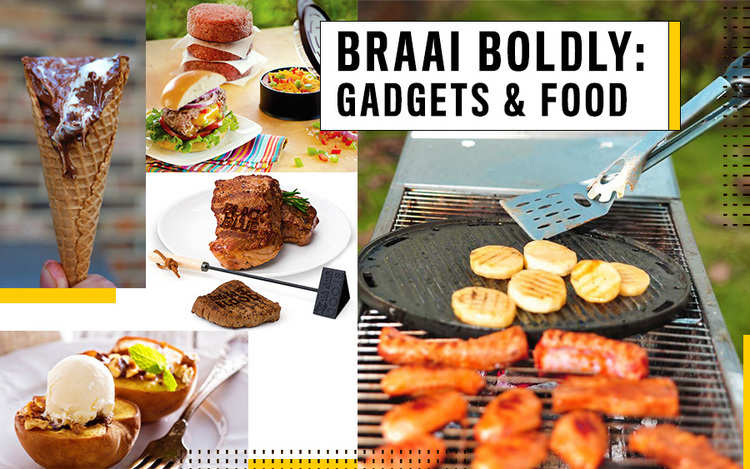 Braai Boldly: Braai Gadgets and Recipes
Who doesn't love a good braai with friends and family on a beautiful spring day? Yep, it's that time of the year again, where we host braais and invite all our friends and family. With National Braai Day coming soon the braai invitations are well on the way, and for those of us that love to host a braai, we'll need a few hacks to hosting the best braai.
What makes for a great braai, though? It has to be the meat of course and the great vibe with your mates cracking jokes by the fireplace, but another thing that makes a great braai is how the host gets creative with the food. Let's look at some gadgets and recipes to make this year's braai day one to remember.
MUST HAVE GADGETS
Show off with a Branding Iron for your braai meat.

Make your braai a hit and be the one everyone is talking about the day after, with this Branding Iron. Whether you are grilling a burger or chops, it is easier to personalise your friends and family's food by adding a name or a special message to their braai meat. 
This high-quality branding iron includes 55 letter and spaces, allowing you to brand your masterpiece with just about anything you like. 
Be a jack of all trades with the Jaffle Maker.

The Jaffle Maker is perfect for so many braai day dishes, from braai broodjies to sweet desserts and even braai pies. The Jaffel has always been a must-have for any braai master, and will remain the go-to gadget for years to come.
There are so many options for you choose from when it comes to finding the perfect Jaffle Maker. From the original cast iron single circle, the Jaffle Maker has evolved now to have a variety of shapes and sizes to even 3 in 1 Jaffle Makers.
Make sure to take a look at some recipes your Jaffle Maker will be perfect for below.
---
Add your personal twist to a classic with a Hamburger Patty Stuffer.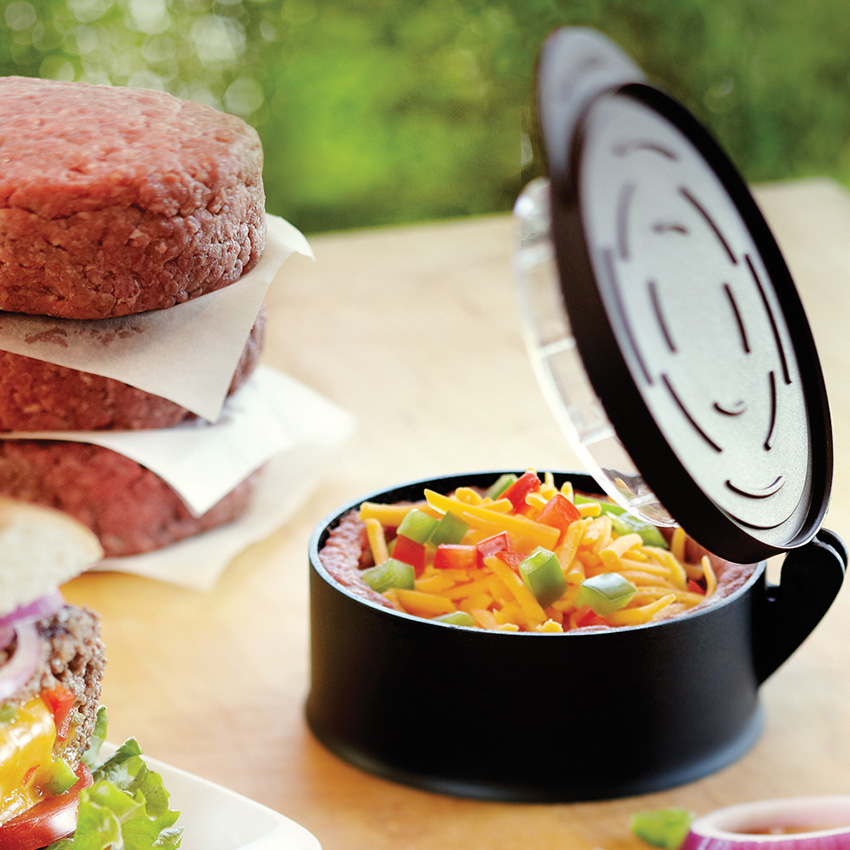 We all love a good burger but sometimes you want to add a little extra to this braai day go to. Kick up your home-made patties to the next level by stuffing them with some of your favourite flavours. You can even customise each patty for each of your guests!
The possibilities are endless and with this tool, making these custom patties are easy work and just as easy to clean.
Start customising your patties now
---
Be in control with the Tonglite 2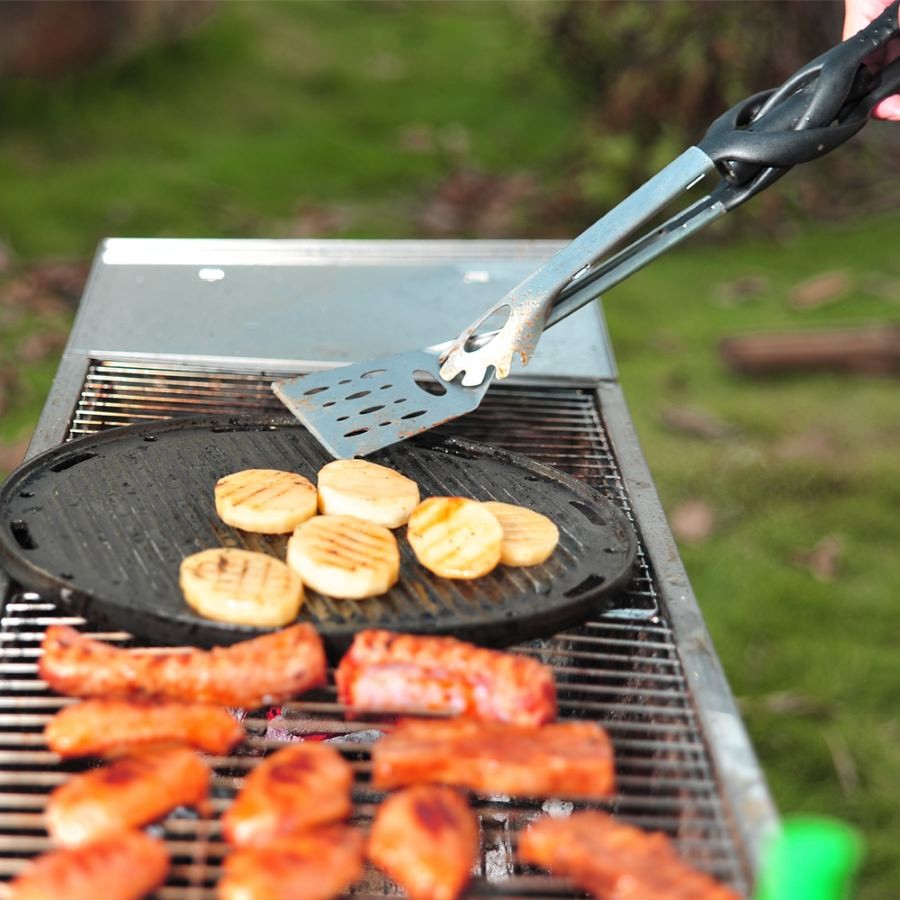 The Tonglite 2 is a combination Tong, Spatula, Knife, Bottle Opener & Grid Scraper in 1.
 This compact portable tool has a built-in LED flashlight allowing you to see the natural colour of your meat on the braai once the sun has gone done. It can be used as an incredibly useful tong, or the top arm can be retracted for use as a spatula. The long reach arm also keeps your hands safe from the fire, making it the perfect gadget to have as the braai master.
Get your hands on a Tonglite 2 here
COMPLETE YOUR MENU

Keep it simple and healthy: Roasted nectarines with pecans
Serves 4
Ingredients:
| | |
| --- | --- |
| 1 large knob Soft butter | 60ml Treacle sugar |
| 120ml Pecan nuts | Nectarines (firm but ripe) |
| Mascarpone or double thick cream to serve | |
On a large piece of foil, spread the butter over a 20cmx20cm area in the middle of the piece of foil. Leave space all around so that the sides of the foil can be folded over the top of the fruit. Over the buttered area, sprinkle sugar and nuts. Wash, and halve the nectarines and remove the pip. Arrange the nectarines, cut side down, as close together as possible in a single layer. Fold the foil over the top, and make sure there are no holes for the butter to escape, use a second piece of foil if necessary. Place over low coals for about 5 – 10 minutes, until the butter is melted and the sugar has started to caramelise. Remove from the coals, open the foil and invert onto your serving dish so that the nuts are on top, and the caramel juices drip down over the fruit. Serve with mascarpone or cream.
---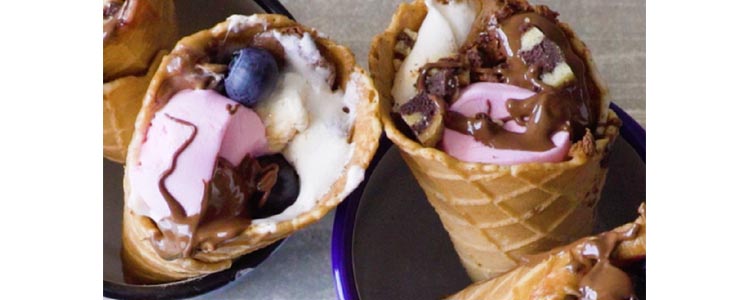 Decadent and convenient for all ages: S'more Braai Cones
Serves 1 
Ingredients:
| | |
| --- | --- |
| 1 Sugar cone | 2 Marshmallows, chopped in half |
| 2 Vanilla biscuits, crushed | 2 Bar-One mini's, chopped |
| Dark chocolate drops | |
 Place one marshmallow half into the base of the cone, then layer up with Bar-One chunks, cookie crumbs, chocolate drops and more marshmallows until the cone is full (alternating the ingredients roughly to avoid a distinct layered effect). Wrap each of the cones in foil and place onto a medium - hot braai over an indirect heat for 5 to 10 minutes, turning halfway to ensure even melting. To prepare the cones in the oven: Bake the wrapped cones for 5 minutes at 180°C. Unwrap the cones and ENJOY!
You can have fun with the ingredients such as:
Use peanut butter and fruit instead of biscuits and chocolate drops for a Fruity Peanut Butter cone.
Use a variety of chopped nuts with white chocolate and M&M's for a Trail Mix cone
Too many options, why not have everyone make their own cone for a fun group activity?
---

Bring out the Jaffle Iron for an Apple, Brie and Cranberry Grilled Cheese
Serves 2
Ingredients:
| | |
| --- | --- |
| 4 thick slices Vanilla pound cake | 1 – 2 Apples, sliced |
| 4 Tbs Cranberry Jam | 50 – 80 grams Brie, rind removed |
| 2 Tbs Butter | |
 Add some Brie, apple slices and a layer of the cranberry jam to two slices of pound cake. Add the other slices of the pound cake to the top of your filling to make a sandwich. Grease your Jaffle Iron with butter and grill your sandwich for about 2-3 minutes. Serve warm.
Hosting a braai isn't just for anyone, it's for the bold. Those who can host and entertain a crowd while cooking up a storm by the fire, and can crack jokes while making sure everyone has the right directions to the venue. So be bold with us and host a braai this braai day.
While enjoying your braai day post a picture of you in your CAT boot or shoes showing off your favorite braai recipe.  Post it to our Facebook page.