Fresh Kicks Take You Places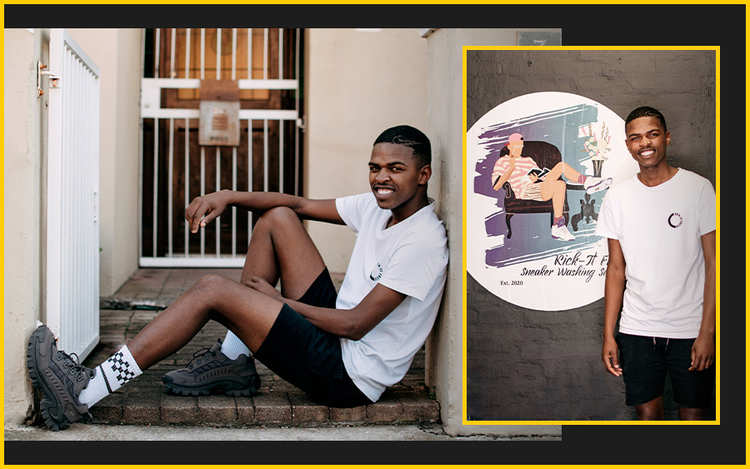 Although lockdown saw a lot of downfalls, in this particular case, it saw the rise of an innovative business in Gqeberha. Kick-It Fresh, founded by Sinawo 'Trevor' Tutshana, is a business dedicated to cleaning and restoring sneakers.
We had a chat with Trevor to delve a little deeper behind the mind of this very successful business, and here's what he had to say:
1. You said this all began when a friend asked you to clean her sneakers, was this the sole motivation behind the business? Tell us the full story.
"When my friend approached me to clean her shoes, I didn't have any work at the time, this was in 2020. So, she said she would pay me to clean it. I didn't think much of it at the time, just that this was a quick and easy way to earn some money." 
"When she came to collect her shoes, she was surprised at how good they looked, so the following day she decided to wear them to campus. When all her friends saw how good they looked, they couldn't believe it, especially because they saw what it looked like before. Suddenly, all of them also wanted their shoes cleaned as well as that, and so she put them in contact with me."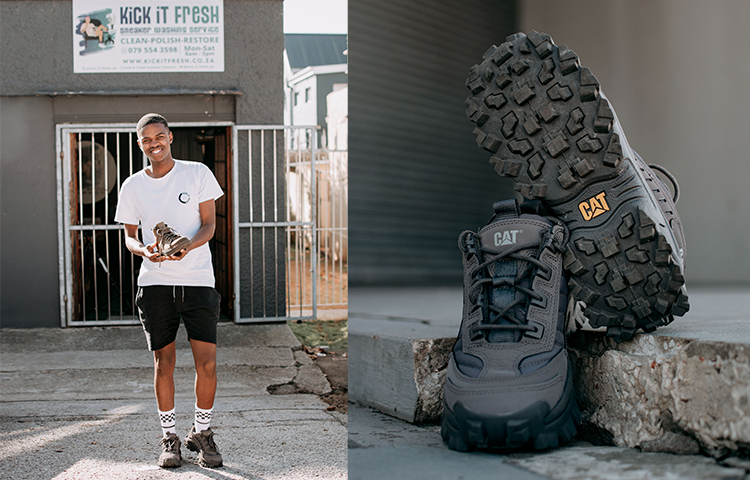 2. Tell us more about the journey of opening up your business? More clients approached you, how did you expand your team and so on?
"In 2020, I didn't have a job, so when more people approached me to clean their shoes, I decided to make this a business. What really helped get my business up and running was word of mouth, and so every time I received a pair of shoes to clean, I made sure that they leave my business looking brand new."
"I started working from my aunt's garage in Summerstrand. Thereafter, I went to work opposite Summerbreeze Spar from a food truck that I rented. In January 2021, I was vacated from this premises by the metro police, they said I had to leave because I did not have a permit. And so, I left and went to work at my sister's place. I got myself a table, set up, and worked from there for a while. After that, a friend of mine Jesse Gallant – he is a hairstylist – called me and said, "brother, you can come and work from my salon, you can use my reception and have a front for the business". So, I worked there, for about six months."
"I've been moving from place to place, but my clients still follow me because they are happy with my work. This year in February I am proud to say that I opened my own shop, located in Richmond Hill, 3-5 Bain Street."
3. 2020 was quite a challenging year, in terms of the pandemic and for businesses. Can you tell us about this experience not just opening a business, but a successful one during this strenuous time?
"As I said, I didn't have a job at the time. Many people lost their jobs during the harsh lockdown, but I didn't even have a job before COVID. So, I knew I had my work cut out for me. I told myself this was not going to be a walk in the park. When the first lockdown occurred, my business was just picking up, then suddenly people weren't even allowed to go for runs or to parties. So, during this time, I did my research and tried to better my skillset on Google by learning about the different and best methods for cleaning a range of shoe materials. I even checked reviews of different cleaning products to ensure I use the correct products."
"During level 4 lockdown, people were allowed outside to run again. At the time I was still living in Summerstrand so I woke up early at 5:30 AM and I would jog right next to those people. They would look at me weirdly at first, but this is how I would talk up my business. Some people would say they weren't interested, but others were willing to give me a try. I remember one guy, in particular, who wanted to give me a try, but he was a bit reluctant, so he took me straight to his house after our jog, to get his shoes, and then he dropped me off at home. But he told me to switch on my live location on WhatsApp so that he can keep track of where I am because he didn't trust me with his shoes. Today, his shoes stay here for months until he is available to pick them up."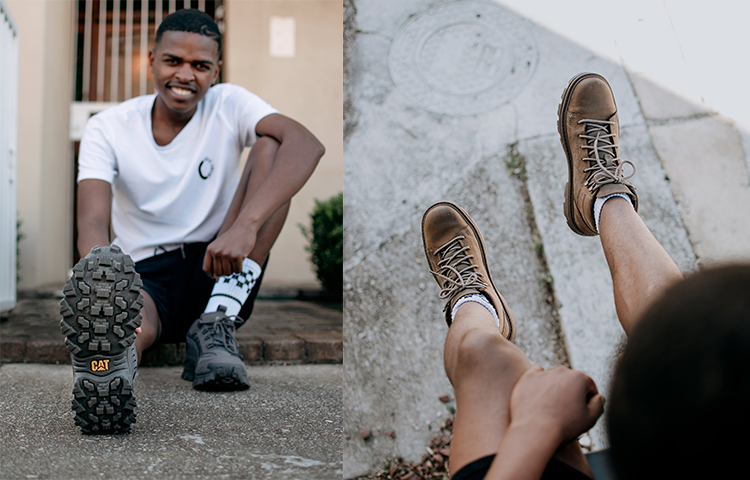 4. Can you tell us about the other members of your team?
"First is Nasiphi Gqabu, she is the receptionist, and the first person you meet when you come to the shop. Then I've got Sinethemba Solo, he is a shoe technician, he cleans sneakers, in fact, I taught him how to clean sneakers and he is doing exceptionally well. Then, I have Thuthukani Msomi who is also a shoe technician, and our newest member, Yongama Mxalisi. So, in total, we are a team of five"
5. What are your future aspirations for the company?
"Franchising is the main goal that comes to mind. That way we can help a lot more people all over South Africa."
6. What advice can you give to other aspiring entrepreneurs such as yourself?
"If there is something in life that you want to achieve, give up being traditional and leave your comfort zone. It is all about the mindset, there is no one way to do something but what is most important is hard work."
Cat Footwear is a brand inspired by hard work, which is why Trevor's story is truly one that is inspirational. Not only did he start his own successful business, but he managed to thrive during what was a very difficult time for the world. When listening to Trevor's story, we hope that you too feel empowered to step forward and do more.