Leather Care Tips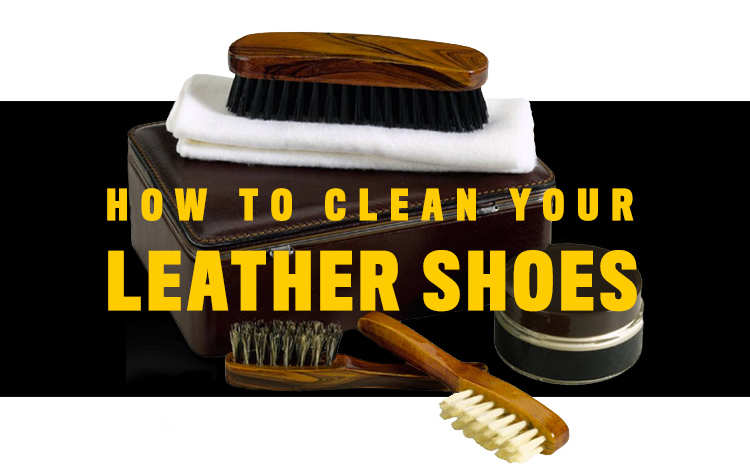 Leather Care Tips
If you're buying a good quality  shoe, it's inevitable that it'll be leather. Leather is not only extremely durable, but is also seen as highly stylish due to its luxurious array of natural textures. Moreover, leather moulds to the shape of your foot, but at the same time ensures greater breathability than synthetic materials. However, consumers are wearier when considering buying leather shoes, more so suede and nubuck, because of a preconceived notion that leather care is high-maintenance and/or futile. 
However, similar to your own skincare regime, leather shoes will stay looking great when you implement a cleaning regime of cleansing, polishing and protecting. It is suggested to do this every 1-2 weeks and especially after days of heavy use. It is not a time-consuming process, and the amount of products used is nominal. The most important factors are determining the type of leather you're cleaning and which products and techniques are applicable.
---
Types of leather
The majority of leather shoes sold commercially is full grain leather, pull-up leather, suede or nubuck. Here are the visual identifiers for each:
| | |
| --- | --- |
| Aniline leather: | A smooth and natural texture with no defects, and is considered as the premium leather as no sanding or excessive dying is required during the tanning process. |
| | |
| Pull-Up Leather: | A smooth, oily and natural appearance which lightens in colour when stretched during wearing to produce a "worn-in" effect. |
| | |
| Suede: | A matte finish with a loose fibre structure or an abraded texture |
| | |
| Nubuck: | Similar to suede, but with a smoother/velveteen texture with a slight grain pattern and tighter fibre structure. |
| | |

---
Tools & Products
Even though oil-based leather care has been a staple for centuries, we'll be focusing on water-based products and techniques. Water-based products are great for hydrating leather fibres, clean out dirt and muck with ease and can be applied to broader range of leather types. As for utensils, it's advised to use harder/perlon bristles on unfinished or absorbent leathers such as suede and nubuck, and softer bristles on your aniline and pull-up leathers.
A basic starter kit should include the following: 
a water-based leather cleaner 
a water-based leather protector or water-repellent protector (for suede/nubuck)
a microfiber cloth
a medium density sponge
a shoe brush (suede/nubuck)
a horsehair or natural soft fibre brush (aniline/pull-up)
---
Clean & Care Processes
As mentioned before, different types of leather requires different care techniques and products. In the table to follow, we'll be looking at the two most prominent care regimes.
Before using any of the product on your leather shoes, ALWAYS do a spot test on a small obscure area of the shoe. If the pigment in the leather discolour, darken or fade, do not use it.
Aneline & Pull Up Leather Care
Suede & Nubuck Leather Care
Cleaning
Apply your cleanser to your microfiber cloth (never directly on the shoe itself). Rub the cloth in circular motion all around the shoe to remove any dirt, dust or debris. Allow the shoes to dry naturally.
Cleaning
Apply your cleanser to your microfiber cloth (never directly on the shoe itself). Rub the cloth in circular motion all around the shoe to remove any dirt, dust or debris. Don't rub too hard, as to avoid destroying the fibres. Allow the shoes to dry naturally.
Conditioning & Protection
Apply the protector cream to a soft brush (preferably horsehair brush) apply to the shoe in circular motion. Brush the entire shoe for about 30-40 sec to ensure full coverage and absorption.
Conditioning & Protection
After the shoes have dried, rub out any blemishes with a rubber eraser or crepe rubber, and then gently brush your shoe with the perlon brush, ensuring all the fibre are combed in the same direction.
Polishing
With a clean horsehair brush, polish off any excess protector cream until smooth. Finally, gently buff the shoe to shine with a clean microfiber cloth.
Polishing
Evenly spray water repellent protector over the entire shoe and gently pat off any excess. This will protect your shoe from the external elements.

---
General Tips
Niched Products Always ask your shoe retailer about which product or method they advise for the purchased shoe. Some high-end and more expensive leather shoes require more niche products such as waxes, oils and specialized cleaning utensils.
Brush types
Perlon bristle brushes are good for combing through suede and nubuck fibre structure However, aneline and pull up leathers require softer bristles as to avoid scratching or damaging
Drying shoes
It's always suggested to let shoes dry naturally, and preferably overnight. Direct heat sources like heaters, blow-dryers and direct sunlight can damage leather. Shoe trees can also help airing shoes and serves as a great tool to retain your shoes' shape.
Protector types
Before purchasing protector creams/sprays always check the label to ensure it suits the type of leather. Aniline and pull up leather can usually be treated with a more all-purpose protector, whereas suede and nubuck rely on water/dirt repellent sealing protectors.
Suede stains
Never try to rub out any liquid stain on suede, as it might worsen matters by spreading the stain. Rather dab off majority of the excess liquid, wait for the shoe to dry and then use a specialized stain remover or rubber to remove it.