Podiatrist Simran Kalyan's Guide to Good Shoes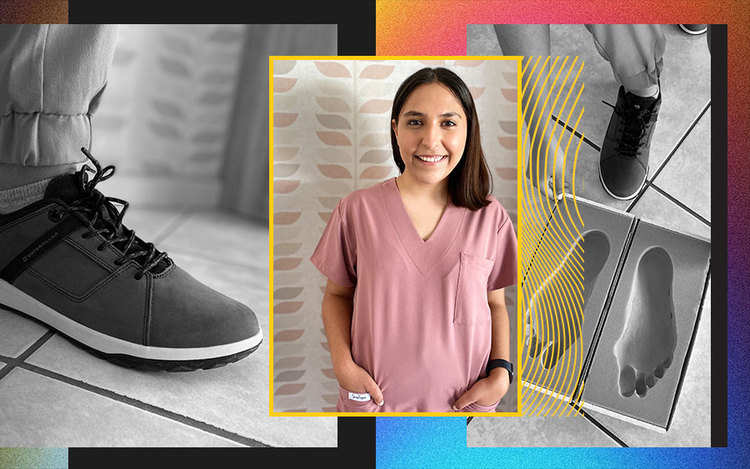 Have you ever wondered how much of a difference your shoes really make when it comes to your overall well-being?
Why are certain shoes more expensive than others – and what does all that tech really do for your feet?
We've enlisted the help of podiatrist Simran Kalyan to better understand the importance of a good shoe.
Did You Know?
Podiatrists help you keep your feet healthy and your lower limbs moving, pain-free. These highly-trained professionals are concerned with the examination, diagnosis, treatment and prevention of foot ailments by biomechanical, surgical and other treatment methods.
We spoke to Simran about what to look for in a shoe and about both her experience and her patient's recent experience with Cat Footwear.
Here is what we learnt!
What to look for in a shoe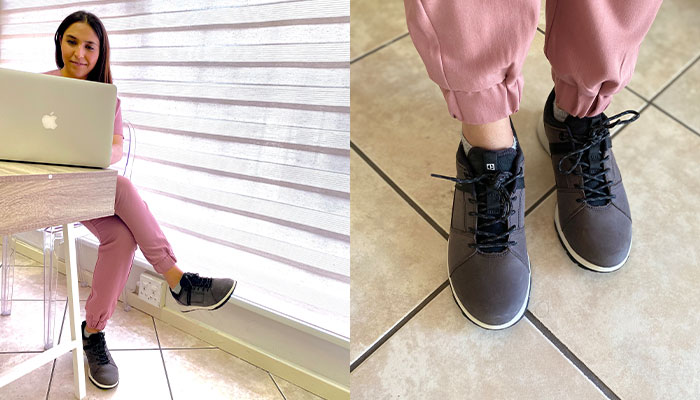 Needs and requirements differ from person to person – so each person will ultimately need to look for shoes depending on their specific foot type.
But while there isn't a blanket approach – there are definitely certain key points that you should look out for:
Your shoe should be the correct size for you. Ensure that you are wearing a shoe in which you can snuggly fit your ring finger behind your foot. If you are wearing a shoe that is too big or too small for you – it can result in unwanted issues. Know your size!

Your shoe should have adequate support. In a good shoe, this most often translates to arch support and cushioning.
Your shoe should not be flat – your feet require a slight lift.
Your shoes need to be wide enough to allow all of your toes to fit in comfortably with nothing being squashed.
Top tip:Always try on shoes later in the day (after 2pm). This will assist you in ensuring you get the correct size because by this time each day, your feet have already swelled up.
These general tips can have a greater role to play depending on your particular foot type. For example, if you have a flat foot it is even more important that you focus on the arch support aspect of your shoes. And if you have a bunion or wide feet, it is especially important that you ensure the shoes you are looking at are wide enough.
Enter 'Patient R'
Simran's patient, Patient R is a 28-year-old male who works from home. He tries to stay active with daily walks around his estate complex and nature walks over the weekends.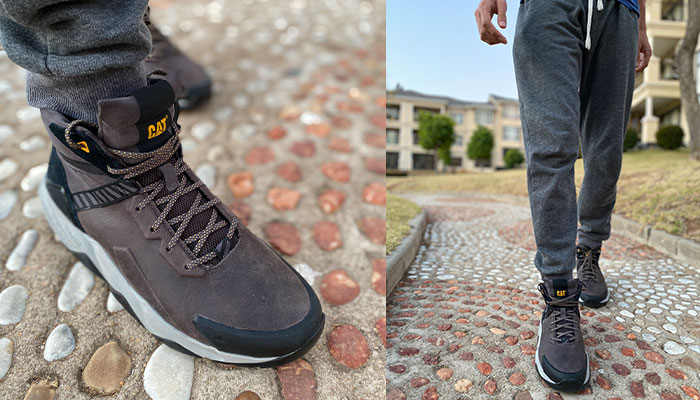 This means that he requires a shoe that is versatile – comfortable to wear at home, supportive enough for long walks on even surfaces, and sturdy enough for walks on uneven surfaces.
Furthermore, Patient R has pes planus (flat feet), increased pronation (rolling in) when walking, and a history of shin splints from his soccer-playing years.
Taking all of this into consideration, we found what could be the ideal shoe for him – one that could tick all of his boxes. The Cat Footwear Context Mid offers a range of outstanding features and benefits to this end:
Uppers: Waterproof full-grain leather
Linings: Soft, breathable nylon mesh
Footbed: Moulded PU footbed for shock absorption and comfort cushioning
Footbed cover: Soft, fabric sock lining with CLEANSPORT NXT™ antibacterial layer to reduce odour
Outsole: Durable rubber with SRX for extreme slip-resistance
Construction: Strobel
After trying out the shoe for a month, Patient R confirmed that the Context Mid is both extremely comfortable and perfectly suited to his needs. He said:
"I wear the shoes daily and I've struggled to reach for any other pair of shoes owing to the immense comfort and support that I receive from the Context Mid. I wear them on my everyday walks and it has helped me to walk a little more than my usual distance because of the cushioning support that the shoe has given me."
Patient R also noted the amount of protection and grip he feels when walking in both wet weather and on sandy and dusty surfaces. He would also usually suffer from tired feet after longer walks, but this has significantly lessened since wearing the Context Mid.
Shoes fit for a podiatrist
While the Context Mid was able to assist Patient R with his unique needs, we asked Simran about her own shoe needs and lifestyle – and this is what she said:
As a podiatrist, I am to practice what I preach – therefore, I always try my best to wear the most supportive footwear.
My daily activity level takes me from treating patients at the practice (which can involve quite a bit of standing), to running errands and doing home workouts.
I thought the most suitable shoe for me was the Cat Footwear Quest Mod, not only because of its comfort, but also for its appearance – I require something quite simple as I am usually in scrubs.
The Quest Mod was best suited to me because of its distinctive features:
Uppers: Suede leather with Street Shield water and stain repellent to protect the shoes from everyday dirt and grime
Lining: Soft, breathable nylon mesh lining
Footbed: Moulded PU footbed for shock absorption and comfort cushioning
Footbed cover: Soft, fabric sock lining with NXT antibacterial layer to reduce odour
Midsole: Durable and lightweight EVA
Outsole: Durable rubber for traction
Construction: Strobel
After wearing these shoes for one month, it has quickly become my staple.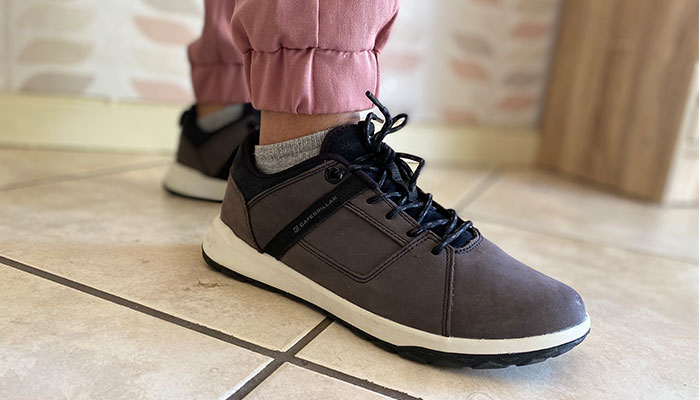 They help me comfortably go through my day from my practice right up until I get home – and my feet are not tired by the time I change into my workout shoes for my home workouts in the evenings. The shoe is lightweight and the soft EVA footbed allows for longwearing comfort which makes it perfect for daily wear.
We only have one pair of feet for life, we have to look after them!
Inspired by Simran to take control of your foot health?
Shop for technologically advanced shoes that #DoMore with Cat Footwear and follow Simran for more tips and tricks that can #DoMore for your thriving feet:
Facebook: @simrankalyanpodiatrist
Instagram: @podiatristsimrankalyan