Recycle, Reuse and Repurpose with the Pallet Dr
The Oxford dictionary defines a pallet as "a heavy wooden or metal base that can be used for moving or storing goods". But what if pallets could be so much more than that? For example, what if it could be a statement piece to add to an outfit? Or stunning venue décor?
April is all about eco-friendly practices such as reducing, reusing, and recycling. And so, as we begin the month dedicated to earth conservation, we decided to speak to someone whose amazing upcycling and repurposing skills are turning heads in the city of Gqeberha.
Today, we speak to Ulundi, also known as the Pallet Dr, and he will be taking us through his journey of what inspired his business, what the process behind his designs are, and what are some of the community projects he has been working on.
In short, tell us who Ulundi is and what inspired the name "Pallet Dr"?
My name is Ulundi Mpulu, I grew up in Zuurberg, but currently live in Motherwell NU 10.
The name "Pallet Dr" came about when I was doing work, beautifying an art gallery near Motherwell. During that time, we were working with guests from England, and I was the only one amongst them who was able to make use of wood for the work we were doing. Because the project was not funded, I used mostly pallets as it was cheap and easy to find, so I made use of pallets to beautify the studio, therefore, the guys from England that I was working with started calling me "the Pallet Dr" and that's how the name came about. They were amazed at what I was able to create using pallets.
Tell us where it all started? What inspired your passion for handbag and furniture designs? Did you study for it?
I grew up with my grandfather. He was a woodworker, even though it was not something that he studied for. While growing up with my grandfather, there were small items that he would make out of wood, this inspired my interest in woodwork.
I started my designs when I was still a student, at Raymond Mhlaba Training Centre, I think that was in 2017. I started selling the pieces I was making at school, as my facilitator allowed us to create a certain item for the school and another to sell. You could say I started my business as a student. I continued up until I was able to raise funds to buy myself the tools that I needed.
Although I started off making and selling smaller items, I encountered a challenge when my younger sibling requested that I make her a bag. She didn't have a backpack and so she asked, "Malume, can you make me a wooden bag?". I started researching how to make a wooden bag, and that's how I started making them, I practised until I was able to perfect it.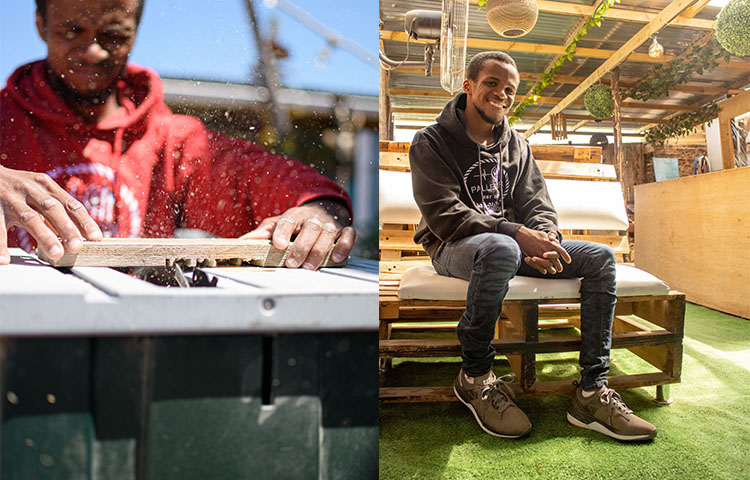 Why did you decide to use pallets?
I chose them because where I live pallets were materials that are just thrown away, people were not interested in them and, I couldn't afford to buy wood, it was expensive. I was still a student at the time and starting off, I had no capital.
I use pallets and beautify them, I create something out of them, such as wooden bags, tv stands, mattress bases, headboards, and the like. There are many items I've designed using pallets.
From there, I was able to start saving, and I could then buy machinery, as I didn't have enough machines. I wasn't getting any funding to start up, so I couldn't get the required equipment and wood to use, hence I used recycled pallets. I used pallets, something that people were not concerned about, and turned them into beautiful products that made people take notice.
Take us through the process, how do you design and manufacture your pieces/handbags and how long does it take?
Because I use mostly pallets, you usually find them as assembled items, I then have to strip it apart, remove all nails on it, then sand the wood to remove any dirt. Thereafter, I cut the wood to create a bag or whichever item I'll be making. Even after completing the piece, I sand it once more to present the finished product, making it smooth and just as beautiful as a shop quality bag.
For me to make a bag it takes 1 or 2 days to fully complete it. For a coffee table or bench, I take 1 day, it doesn't take long because these are not difficult items to make, especially now that I have machinery. Though I don't have a lot of machinery, at least I can work faster when making an item with the machinery I currently have.
A topic that resonates well with the DO MORE campaign is your community projects, tell us about these projects?
There are community projects that I did, especially when we could get volunteers. We've had volunteers from Germany, Brazil, Ireland, America, and so on. I started community projects with children in my neighbouring community, working with them, showing, and teaching them about wood so that after leaving school they too could be able to provide and put food on the table. What we also do, when possible, we request neighbouring community members to come and collect free meals at the Bistro. This is to express our gratitude to our neighbours.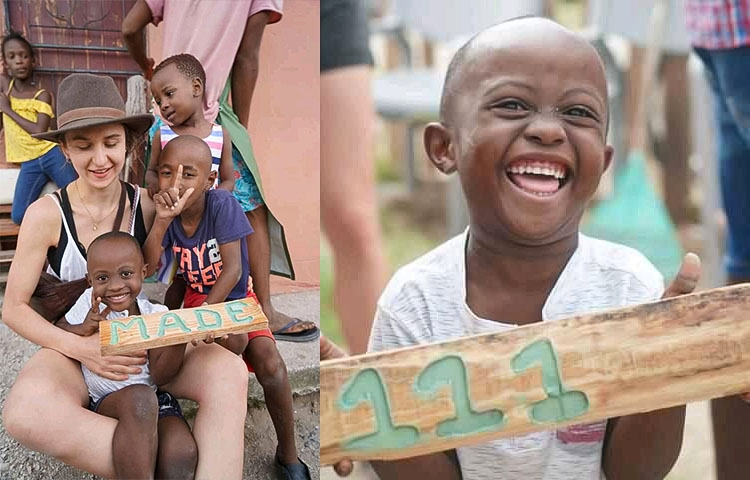 Tell us about the Bistro, was it also made from pallets?
Our Bistro is in Motherwell, Nu 10, at 100 Captain Street, it's called the Pallet Dr.
The reason for building the Bistro here at home is because I wanted my mom to stop working. I too got a job at my mom's workplace, so I got to see how she worked, and I did not like it. So, I decided that I wanted to do something that would allow my mother to stop working. I thought of the easiest way to convince my mother; I know her, my mom loves cooking. I noticed that she enjoys cooking when we would have guests over, she would cook for them and that's why I built the Bistro, today called the Pallet Dr.
Most of the material used to build the Bistro is recycled, discarded pallets, but we bought some of the wood and some were donated to us. It was becoming scarce to find discarded pallets as most companies were selling them, although some will give them away for free. And so, the Pallet Dr (bistro) was made out of pallets.
What advice can you give to others out there trying to make a difference in their community?
I would advise them to start somewhere, and not give up; to persist. They must know people are looking up to them, those who were thinking of giving up, but because they see them persevering, they too are inspired to continue.
This artist, Ulundi Mpulu truly is an inspiration to us all. Through hard work and determination, he has persevered. Not only is he creating breathtaking wood pieces, but by using recycled materials, he shows us all products can be both beautiful and eco-friendly.
If you are interested in buying any of his products, they can be found at Riverfront Backpackers in Perseverance, in Motherwell, at 100 Captain; and on the following social links: