Risktaker of the Month: Siya Ntsumpa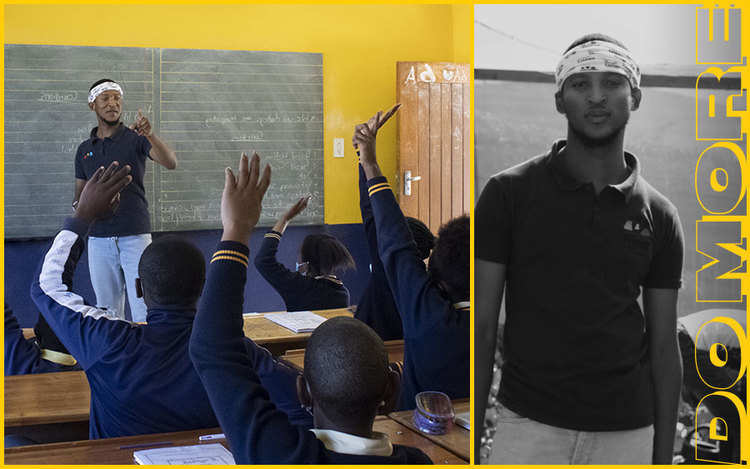 What does it mean to #DoMore for schools, communities and the Earth? 
To answer this, we have the inspiring and driven Siya Ntsumpa, founder and CEO of the Giving Them Wings Foundation. This non-profit company based in the Nelson Mandela Metropolitan does sustainable living projects in schools, working with primary and high schools to teach children how to produce food, how to plant, and how to recycle. 
We interviewed Siya, our Risktaker of the Month, to find out more about what he does and how he goes about doing more for the future of South Africa every day.
What inspired you to start the Giving Them Wings Foundation?
---
It's really a very long and sad story, but I was volunteering in some schools around 2012 and I learnt very quickly that there was a deep problem in terms of home nutrition and kids not having anything to eat. 
So we started a food garden at one school where I was volunteering and saw the benefits of it shortly after. I had to learn how to sustain it – how to keep it going. That involved a lot of asking for help and I did a lot of research and came to the conclusion that I need to start something legitimate. 
That's how Giving Them Wings was born.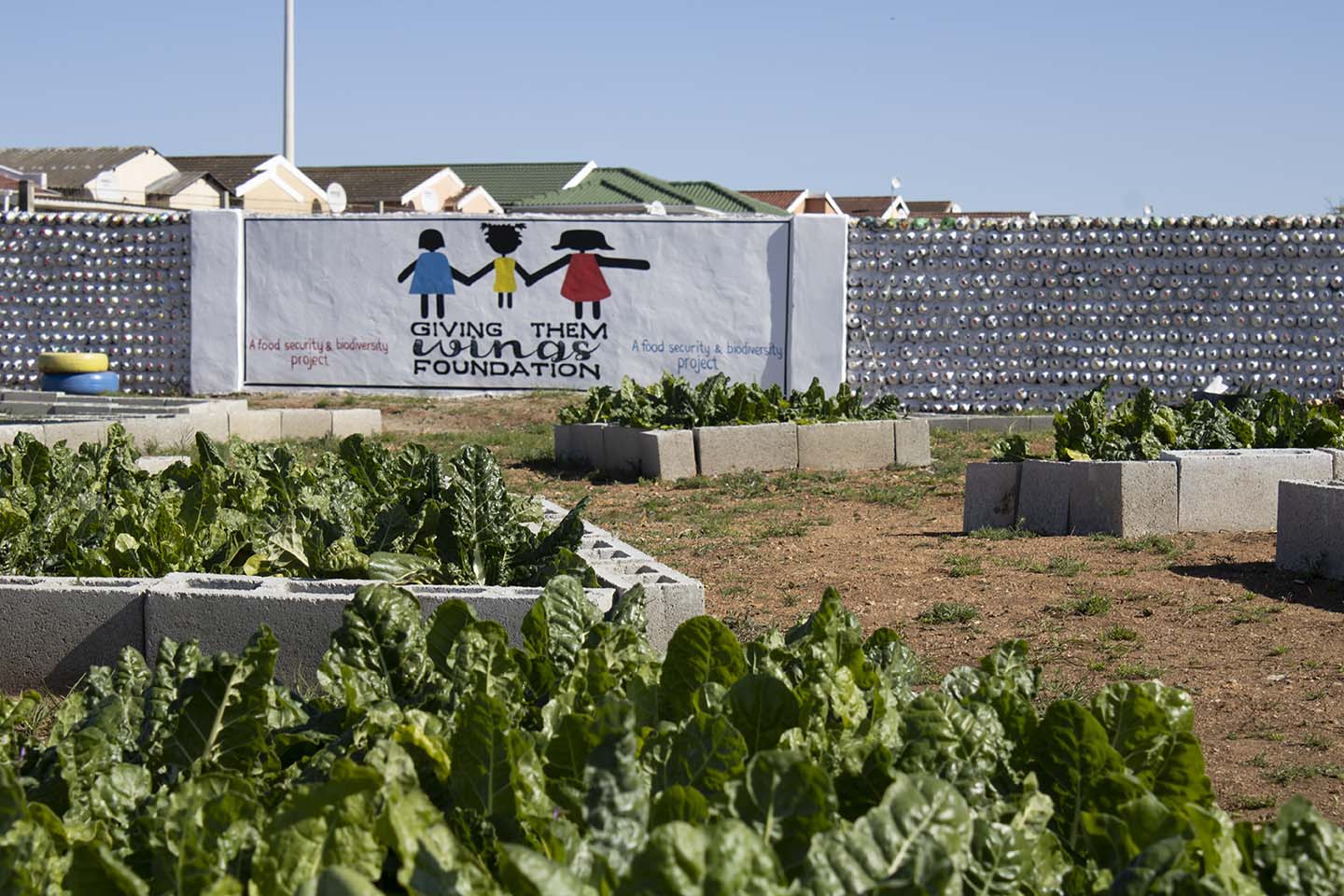 Tell us a bit about yourself.
---
I was born and bred in Port Elizabeth, Gqeberha, and I have a Creative Writing degree. I didn't study any environmental kind of qualification; this is something that drew me through passion and through the love of it – and also through seeing how necessary it is in our township particularly. 
And that's how I got to build it all with the help of my team – it's just through the love of seeing what it can do.
How did you come up with your methodology and processes for teaching the children at the schools?
---
We also play a role in curriculum enrichment – environment education is key.
It developed into us going into the classroom by learning that educators are not very well-versed with what recycling actually is and how it incorporates into the curriculum. And so over the past 3 or 4 years, we've been spending a lot of time in classrooms in our schools where we take what's already in curriculum and enrich it with what's practically possible outside.
So in some of our schools we get a lesson a week where we merge what can be done in the buy-back centre, for example, or in the recycling bay, with what is in the textbook so that kids have a deeper understanding of how this circular economy works.
This type of project does not make change overnight – it requires a lot of patience and perseverance. How do you stay motivated throughout your projects?
---
For me, personally, working with kids is my personal therapy. 
They bring a fresh joy every day to the work. They sort of delete a lot of the frustrations and a lot of the challenges. Because there are a lot of challenges and one of them is finance. Besides that there are other challenges that you discover as you grow. But motivation for me, front and centre of the programme, is the kids that I work with.
I've mentored kids now for over 7 years and my very first group of kids that I started working with is doing their 2nd year in tertiary already. They always come back and they tell me how they're doing so that's always good to hear – that the skills that you left in them, they still carry.
Why do you need comfortable shoes for what you do and how has your Cat Footwear helped you in your work?
---
On a normal day we visit about 4 or 5 schools. We do a lot of walking and we do a lot of standing, so comfortable footwear is very important.
And because I'm always on my feet – I work with teenagers and they are very energetic – and I have to do a lot of running around, what I put on my feet is very important and the Cat Footwear is so comfortable.
What I love about them in particular is that because we work a lot in our gardens and with our recycling, we work a lot with water, so I always need waterproof footwear. That's very important for me – it's one of the qualities that I look for in good footwear.
What do you do in your spare time when you aren't running the NPO?
---
What is spare time? [laughing]
I run an NGO and we rely on outside funding so I spend a lot of time writing proposals and research on new things that I can bring into the organisation and the work that we do. So whenever I have spare time I spend it in my room, in my bed – I read, I have to sleep. I also like to travel, I also like nice things like going out. But a lot of time I spend reading and sleeping.
What is the biggest thing that you want the schools to take away from what the Giving Them Wings Foundation does?
---
So the focus of the Giving Them Wings Foundation has always been to place the kids in the centre of the work.
As we've grown, we've identified different things that we can pay attention to, but I've always been very specific to pay attention to how the child and the learner can play a central role in the work. As we've been growing, we've been getting new partners and new people to work with, but it's always important for me to have the learners as ambassadors of the work – to have the learners able to participate and articulate the work. Them understanding why the work is important is, for me, most important. 
So if there's any take-away it's that whenever I leave a school, I need to make sure that the kids in that school know what they're doing without me or my team being there.
How do the schools sustain what the project does with them?
---
So the projects do a lot for the schools. 
We first focus on making sure that we have food production for the feeding scheme and also food for the kids to take home. That's the main focus.
Then we have to make sure that the gardens sustain themselves and that's how we bring in the circular economy. I always say in the schools that you cannot have a recycling programme if you don't have a gardening programme; and you cannot have a gardening programme if you don't have a recycling programme. Because one takes care of the other and then, eventually, both take care of themselves. They work in unison. 
So if you're collecting plastic bottles, that generates an income which you use to buy your seedlings, soil, compost, etc. And once you start harvesting and planting and you're selling your produce, that again takes care of its own. So it is ultimately a circular thing that helps for sustainability.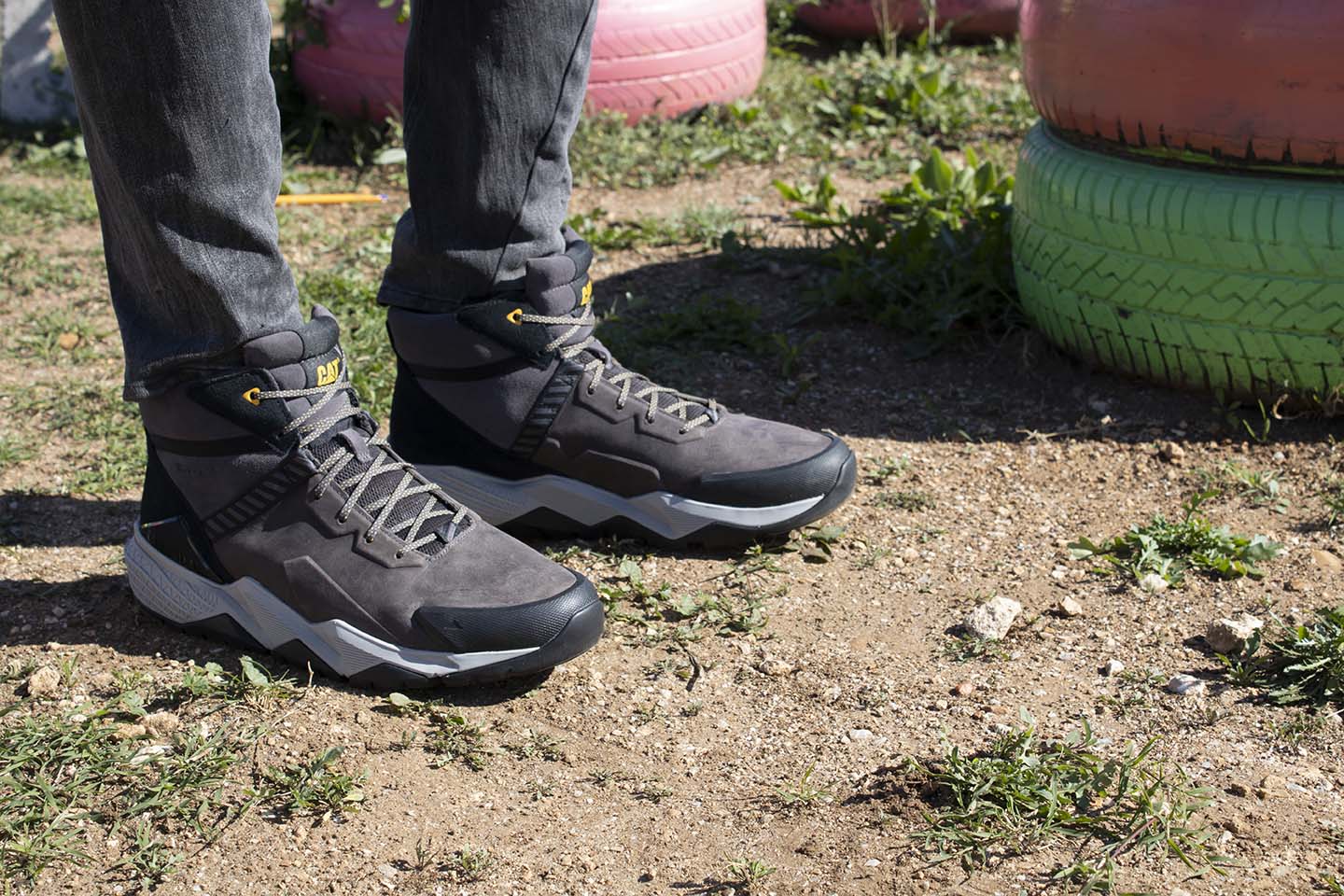 Inspired by Siya and the Giving Them Wings Foundation? 
Shop the look with the Context Mid WP and the classic Colorado Bold and follow this incredible organisation's journey:
You can enjoy the look you need to #DoMore and grow the sustainable life you want with Cat Footwear.