Freelancing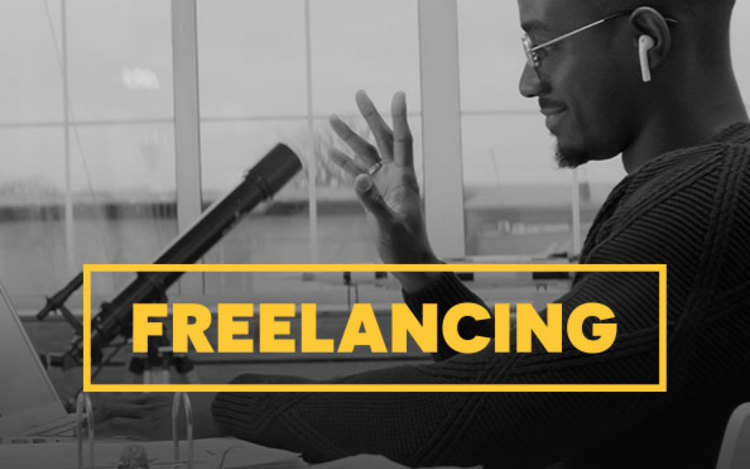 Freelancing
In the last few years, the concept of freelancing as a career has become increasingly popular. But what exactly does being a freelancer entail? What fields are best for freelancing? And what are the pros and cons of this style of work? 
Let's break it down.
A freelancer is someone who is self-employed and hired to work for different companies on particular assignments. They are not necessarily committed to a particular employer in the long term.
The Arts:

Graphic designer
Illustrator
Artist and/or art teacher
Dancer and/or dance instructor
Musician and/or music teacher

The Web:

Web developer
SEO specialist
UI/UX designer

The Words:

Journalist
Expert writer
Transcriber
Translator/
Editor or proofreader
Blogger

The Brand:

Social media coordinator
Brand consultant
Marketing strategist
Public relations officer

The Expert:

Teacher and/or online tutoring
Legal services consultant
Virtual assistant
If you don't see your career field above, don't be disheartened. If you think out of the box and apply your skills creatively, your options are endless! For example, registered nurses can find a variety of freelance opportunities that require their licensure, skills, and experience. These include case management for insurance companies, telephone triage, and medical call centre work.

So if you're craving a career change or are in need of a lifestyle change, we've put together both the pros and cons of freelancing for you to consider.
Pros:
Being your own boss means flexibility in your schedule and hours. Want to start at 10am? Go ahead! Feel like working at your favourite coffee shop instead of at home today? Why not? You're even in charge of your own leave days – Meaning more time with family and to do the things you love to do.
You can be selective with the jobs that you take on and choose clients that you enjoy working with or topics that you are passionate about.
By not having a fixed salary at the end of the month, your money could come in at any time of the month – depending on your arrangements with your client. 'Pay-day' will have a new meaning when it happens a few times a month.
Variety is the spice of life, and you may find more variety in your day-to-day jobs, depending on the different types of clients you take on. One day might see you doing work for a big corporate and the next you could be helping a one-man operation in a completely different sector.
You won't need to rely on other people – colleagues, line managers, subordinates – to get your job done. You will be independent and self-reliant.
There will be no traffic-filled commute to and from work if you work from home, and no dress-code unless you are meeting with clients. Although with adaptable shoes from CAT Footwear, you'll always be dressed for both comfort and purpose – work and play.
Cons:
Being your own boss also requires more discipline and responsibility. Some people thrive in a routine with set hours, authority figures, rules and regulations. So unless you can put together and uphold a system like that all by yourself, you may struggle with the sudden freedom and begin to procrastinate or dawdle.
There will be no employee benefits, such as medical aid, pension fund, etc. So you'll need to make sure that the amount you are bringing in is enough to cover those extra costs as well.
There is a definite lack of stability in not drawing a fixed salary at the end of every month. This can sometimes make it difficult to plan too far ahead of time, especially if some months are slower than others or have fewer clients to make up your income.
There may be an adjustment period, where you are working longer hours than before, and it might take a while before you can earn the equivalent of a normal salary or what you need to cover your living expenses.
Juggling various clients from different sectors, each with different needs and briefs can become confusing and difficult to balance.
Not working with an office full of other people can get lonely. If you are a very sociable person, you might miss having a chat in the passage or being a part of a team.
As you can tell, being a freelancer is running your own business – but you are both the boss and the employee. Having considered the good and the bad, you will know best what you need from your career and lifestyle and whether this is the right style for you. 
But whatever you choose, be bold and give it your all! With CAT Footwear, you can blur the lines of work and play as you freelance your way into the future – or own it at your office.