Workers' Day, Workers' Shoes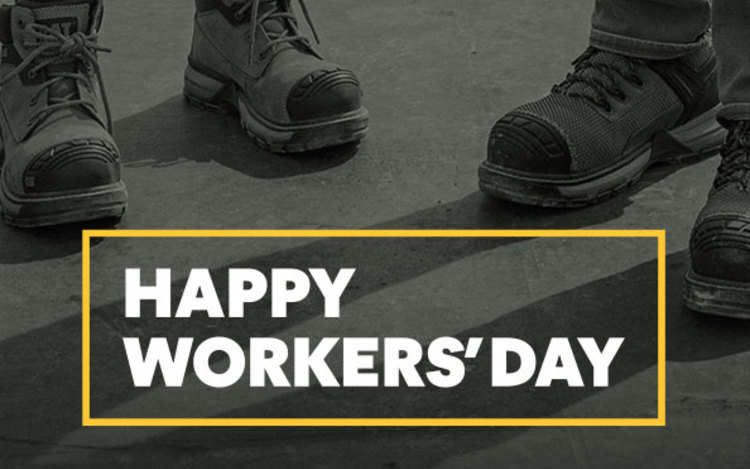 Workers' Day, Workers' Shoes
This Workers' Day, we honour you. In your daily jobs and professions, you all play your part in adding to the wealth and splendour of our nation. Happy Workers' Day, South Africa!
The History 
Also known as May Day, this international celebration dates back further than you'd think.
In 1884, the working class citizens of the USA and Canada demanded shorter working hours. So the trade unions stated that as of 1 May 1886, a legal day's labour would constitute 8 hours.
To bring this closer to home, the first record of South Africa celebrating May Day was in 1895. However, it was only declared a public holiday almost a hundred years later.
A Worker's Shoes
Cat Footwear manufactures premium safety footwear symbolising the 100-year connection Caterpillar has to tough, honest work. Our safety footwear collection is made up using a variety of comfort, durability, safety and technology features intended to keep workers protected and comfortable, even in the most extreme of conditions.
We offer safety shoes with Steel Toes, Nano Toes and Composite Toes, all tested to meet and exceed strict requirements in order to be certified. Here are some of our favourites:
Men's Safety Shoes

Outbase (Steel Toe) – A stylish, work boot that is as strong as it is classic, with the highest available strength for impact and compression. 
Excavator Superlite Waterproof (Nano Toe) – A top-of-the-range boot which is the ultimate work boot for heavy industrial jobs.
Streamline Leather (Composite Toe) – A lightweight, non-metallic safety shoe for extreme comfort in light industrial occupations such as warehousing, contractor work, or even airport security.
Women's Safety Shoes

Mae (Steel Toe) – A staple in women's work gear and ready to meet any challenge, this waterproof work boot will handle the tough environments of industrial worksites and more with ease.
Abbey (Steel Toe) – A waterproof leather Chelsea boot that you can call on with confidence when you industrial work calls for ultra-protective and strong safety boots.
Jace (Steel Toe) – A suede and wool safety boot which is equal parts trendy and strong, using the best in technology to optimise your performance no matter the obstacles.
Cat Footwear is all about enabling you to live your best life – at work, at home, and everywhere in between. We prioritise functionality and comfort, so that you can prioritise your work.
So here's to you this Workers' Day!