HOW TO BOOT UP FOR WINTER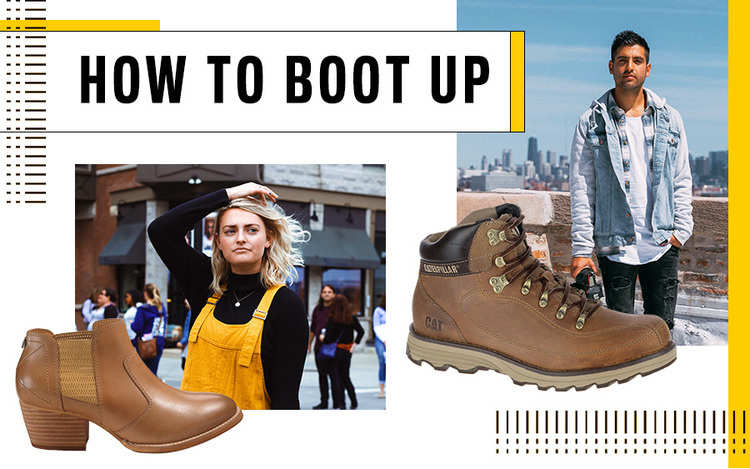 HOW TO BOOT UP FOR WINTER
As we welcome Winter to our shores, we also welcome a time where having to go through our closets, trying to find our coats, scarfs and of course, warm boots is now part of our morning routine. One thing about this season that has many people in panic mode is figuring out how to dress warmly while still looking stylish. Some just give up, citing excuses like; "Who has time", especially during cold Winter mornings. 
Well, luckily for you that's what we at CAT Footwear are here for. In this month's edition, we look at some of the latest boots to keep you warm and stylish without breaking a sweat this Winter. So, sit back, relax and feast on some warm & stylish boots that will have you stepping out boldly this Winter.

Starting off with the ladies, we look at two stylish boots and how to infuse them into your Winter wear. These boots combine both quality and sophistication, making them the must-have pairs this Winter.
This tall riding boot has the slightest heel making it about as unfussy as boots can get while remaining the ultimate utility boot, as it blends in just about any outfit, yet keeping your legs warm and comfortable.

Its full Grain Leather Upper and Microfibre Lining, Microfibre Sock Liner make it a beauty just to walk in, coupled with a back zip to make life easy when taking off or putting on.

The LAYLA 14" is crafted with luxurious leathers and quality comfort to take on any cold Winter weather, making it the perfect addition to your closet this Winter.

The PEARL is a cheeky boot that is crafted for total comfort and flexibility. Its durable rubber outsole is built for traction and will keep your feet grounded as you strut across the room, making heads turn.

As this boot gives a whole new meaning to "elegance" it combines CAT Footwear's breathable, smooth sock lining technology and a stylish chunky heel made for nights out around town or laid-back afternoons with the girls at the movies. This one is the real winner this Winter.

How you wear this boot should never be an issue as it gives you the freedom to express yourself in any way.

For the gents, we have a combination of classy and bold as options for this Winter. Without keeping you waiting, let's get into it.
GRAYS RIVER

To kick things off is this bold yet sophisticated boot, the GRAYS RIVER. Crafted from genuine leather and infused with our NXT antibacterial sock lining, these boots are designed for long periods of wear with unfaltering comfort and breathability, making them a perfect style item to add to your wardrobe this Winter.

A smart, lightweight and dynamic style with an EASE footbed built-in, the GRAYS RIVER is packed with versatility. From the boardroom or a night out at the movies with your mates, this boot is up for the occasion. When worn with a trench coat and jeans, the GRAYS RIVER will have heads turning when you step into the room.

THE HIGHBURY

GO BOLD OR GO HOME! That's the attitude you get from just looking at the Highbury. A shoe that lives by an undefined set of rules, built for those that dare to take a chance at being bold. 

This comfortable and stylish boot plays the versatility card and always triumphs. Its maximum comfort features mean these are your trusted travelling boots. 

The HIGHBURY is a lightweight boot with soft, breathable nylon mesh lining. How you dress up for this boot is entirely up to you, but one thing is for sure, if you have to wear anything with it, wear your bold personality.
However you choose to keep warm and stylish this Winter remember if it is not bold, it doesn't conquer. After all, being bold and elegant is not a choice but a way of life.