RISKTAKER OF THE MONTH: FABIO MACCHIA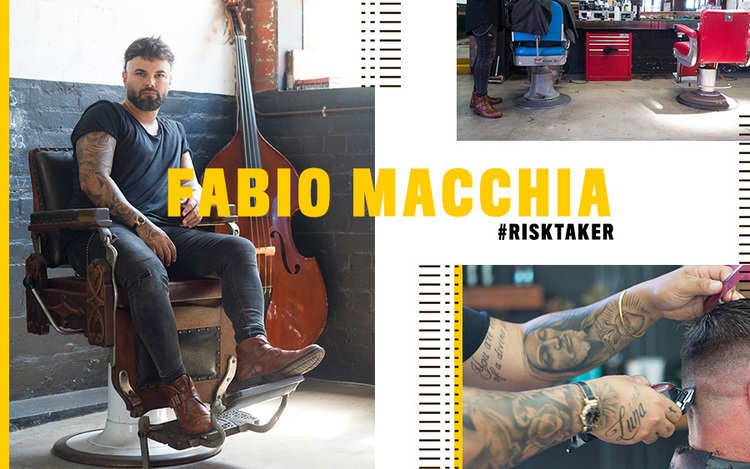 FABIO MACCHIA
CAT's risk takers are individuals who are measured by their standards, and dare to not follow the crowd. This month we will be looking at a different craftsman of sought. Barber and stylist, Fabio Macchia – owner of Shag High Voltage in Port Elizabeth.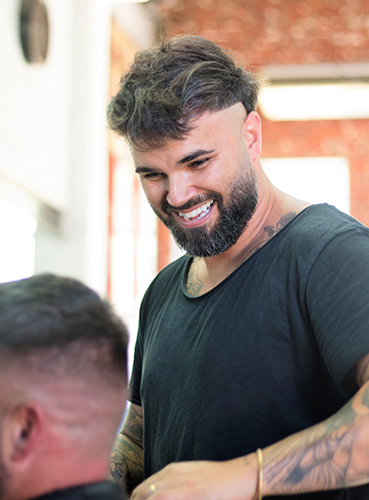 WHERE IT ALL BEGAN
Fabio's beginnings were humble. He started out cutting his friends hair just for fun. As time went by, he realised that this was a good way to make extra money but also allowed him to explore his creativity. Soon he was cutting clients' hair from his bedroom. 
He never thought that it would lead to him owning his own salon/barber shop. Now, 17 years later, some of his first clients are still coming to see him.
EDUCATION, APPRENTICESHIP AND THE BIRTH OF AN IDEA 
After attending Hair College in Port Elizabeth Fabio was drawn to men's hair however a barbering course was not on offer. He took the initiative to teach himself and hone those skills as a male hair stylist. 
With that, he took to the field and did apprenticeships in various salons. However, the desire to better the men's hairstyling industry was what drove him to open his very own salon. 
"I couldn't help but feel that men's hair was going to be the biggest part of the industry one day"

- Fabio.
Fabio embarked on the journey to making a mark on the men's hairstyling industry by opening up a small salon however this was way before men cared about hair styling as much as they do today. This made business slow, and the support minimal. With many telling him to move over to the female hair industry that was more profitable, nothing shifted him from keeping his eye on the goal of making a success of the men's hair industry.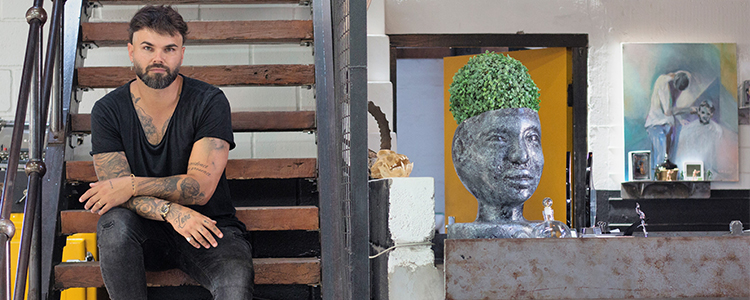 SHAG HIGH VOLTAGE HAIR – THE VISION OF TWO PEOPLE 
Upon meeting his wife, Corinne an incredible stylist in her own right, Fabio realised his vision, one they both shared. Out of this shared vision, Shag High Voltage hair was birthed. 
"We both had a vision of a space that would allow stylists to be creative and to have the best stylists under one roof"

- Fabio.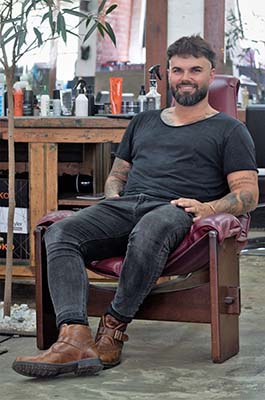 They open their first SHAG premise which wasn't ideal space for them. However, this taught them many lessons about themselves, the industry and gave them a chance to learn. This is where they developed their brand. 
"In our third year there we knew we had to move as the space was very limiting. It tried to crush our vision of what we wanted in a business. We started looking around. It took time to find what we wanted - then we were introduced to the valley" Fabio.
SHAG IN THE BAAKENS VALLEY 
Fabio and Corinne moved SHAG to the Baakens Valley in Port Elizabeth. This warehouse area was the ideal location for them. They immediately fell in love with the concrete jungle feel of the warehouse and could not find any fault with it. 
The space lends itself to Fabio's creativity. They had the freedom to create what they wanted. 
With the space came many more accolades. From having 9 of the best hair stylists under one roof, with three award-winning stylists and the shop top colourists - SHAG has grown into a powerhouse of a brand that is rapidly growing. 
Fabio's persistence to his vision- that all started in his family home has finally been realised through his brand, passion for creativity, giving stylists a space to express themselves as well as making a mark on the men's hair industry. His persistence paid off in tenfold.