Risktaker of the Month: Refilwe Ledwaba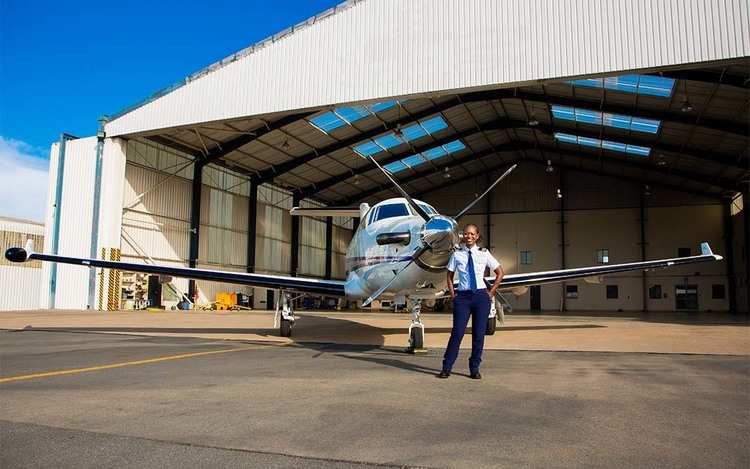 Risktaker of the Month: Refilwe Ledwaba
Some people are born to fly. Others are born to give wings to those who need to fly. Our Risktaker of the Month Refilwe Ledwaba, however, was made for both.
As CNN introduced her in their special feature on her life's work so far:
Ledwaba is a helicopter and fixed-wing pilot, a flight instructor, an advocate for women's rights and a Bill and Melinda Gates Foundation goalkeeper who made history by becoming the first black female pilot to fly for the police service in South Africa.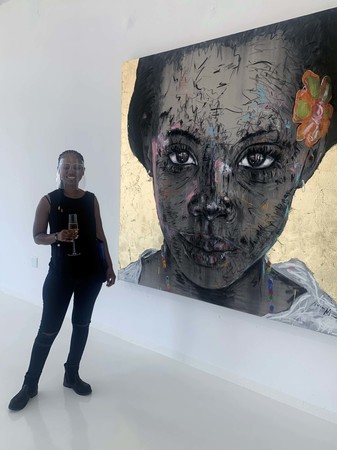 But over and above being the country's first black female helicopter pilot, Refilwe is also the founder of the Girl Fly Programme in Africa Foundation (GFPA), a non-profit organisation empowering young women to take up science, technology, engineering and mathematics (STEAM) subjects.
This is one of the major areas where women are underrepresented, but thanks to inspirational ladies like Refilwe, they are on the rise. Read more about careers which break the mould and show off your bold in our blog: Careers to Break Glass Ceilings & Gender Stereotypes 
How did Refilwe Ledwaba go from small-town girl to history-making pilot and more?
"Growing up during the old South Africa, in a small township called Lenyenye, I had limited career choices. All I saw were nurses, doctors, and teachers. I did not know that I could become a pilot, let alone go anywhere near an aeroplane. 
"However, very early as a child, I had the privilege of growing up surrounded by powerful women, my mother, sisters, and our neighbour who was a doctor. She built a health community centre and encouraged women to have small vegetable gardens. It was my first experience of how women can empower other women. Even though I was incredibly young, I never forgot her white coat and how stylish she was. It was the first time I encountered a black female doctor and I think that is when I decided so early on that I was going to be a doctor." 
But after Refilwe took a flight from Joburg to Cape Town while in university and discovered that the plane was being flown by a female pilot, this all changed.
She began training to be an air hostess but was encouraged by all around her to aim for the cockpit, rather than the aisles. Her determination and never-give-up attitude then took over as she went on to train with SAPS – and the rest is history.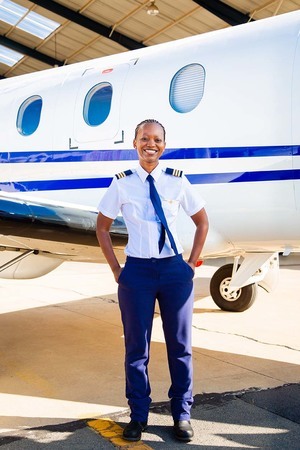 Refilwe has since obtained a BSc (Biochemistry and Microbiology) at UCT; a postgraduate qualification in Business Administration, UCT Business Schools; and an MBA from University of Pretoria's Gordon Institute of business science. She will also be pursuing a PhD in developmental studies. And this is just the tip of the ice-burg of this pilot's achievements.
How did Refilwe go from the one flying to the one giving wings to others? 
"My mother was involved in the community. In addition to being a school principal, she taught music in the community, church, and a lot of extramural activities. So, it seemed normal for me to want to give back to the community. That is what I grew up seeing, helping other people and that became part of my life."
How does her foundation, GFPA, contribute to this?
"I'm working to diversify the face of women in the aviation industry by being accessible, being available, and being visible.
"I want the girls to be successful. Not necessarily to choose to become pilots, but to become confident young women who can contribute to society, our economy and give back to our communities."
The Girls Fly Programme in Africa has impacted over 70 000 girls so far between its 4 countries, South Africa, Botswana, Cameroon and Kenya. With its vision to create an Africa where every girl is educated, included and empowered, GFPA uses design, thinking, technology, and innovation to shape, empower, enable and support the next generation of makers and problem solvers in the aviation and space industry in Africa – all while entrenching the spirit of Ubuntu.
Refilwe's work through the foundation has led to her being recognised by BBC as one of the innovators in Africa, by CNN Africa as one of the changemakers, and by Inspiring Fifty for South Africa 2018.
Caterpillar, too, comes from a world of industry and action. A world where you can build anything. Where effort is everything. Where hard work pays off. And we are proud to see that Refilwe is a part of that world.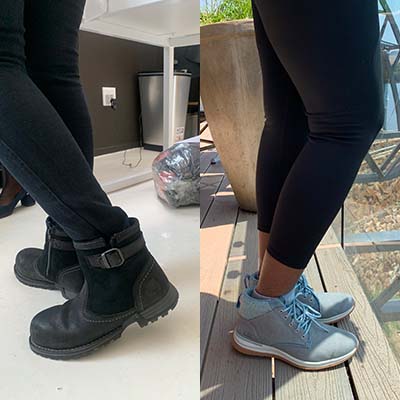 Get Refilwe Ledwaba's Look:
Left: Jace Black | Right: Starstruck Lead
Discover more by reading Refilew's blog here and following her social media accounts: Facebook | Instagram | Twitter