CAT Footwear Industrial Technology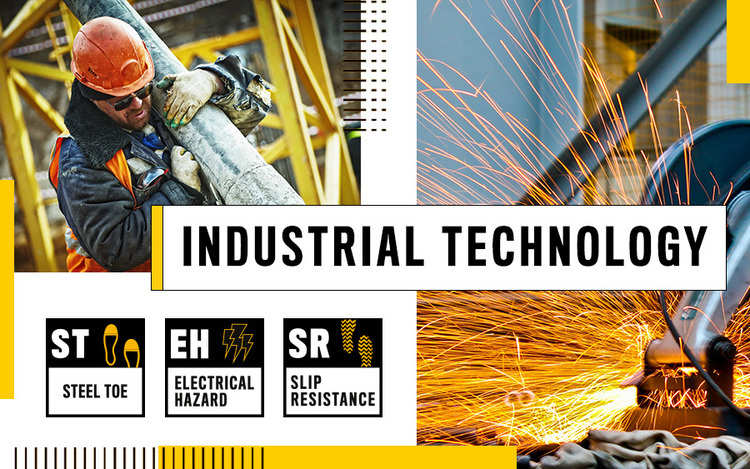 Industrial Technology
Foot injuries, no matter how small can be very painful and costly, from medical bills to having to spend time off work. This can be an inconvenience to your overall workflow and production, not forgetting the physical pain which one endures because of the injury. Safety measures need to be implemented to prevent this, and the first step to achieving that is utilizing of PPE that is up to standard and has the technological features that are engineered to withstand any hazards that can be present whether on-site or at the office.
At CAT Footwear, we have dedicated time to making sure your safety comes first. Our safety boots are built to withstand hazardous environments while keeping your safety and comfort a high priority. In this month's blog, we look at some of our latest safety boots and how our technology has been included in each one to ensure your safety while giving maximum comfort from the office to the work site. Also see why you need a CAT safety boot blog.

TECHNOLOGY FEATURES: CT | EH | SR | WP

First on the list is one of our newest safety boots the EXCAVATOR, which boasts some of our latest safety technology and the CAT Footwear standard of comfort you have come to know and love.

The Excavator boasts our Electrical Hazard Protection technology and this unique EH construction protects against open circuits in dry conditions.

Its beautiful design and unique safety features make the Excavator the ultimate must-have CAT Footwear safety boot.

TECHNOLOGY FEATURES: EH | SR | ST

The Jace Work Boot is an uncompromising boot built for women on the move. As part of our latest range for females, it brings with it our latest cutting-edge safety technology.

The Jace Work Boot boasts our latest Steel Toe technology and has high strength for impact and compression.

The eye-catching design makes this women safety boot a firm favourite amongst women who work both on site and the office.

TECHNOLOGY FEATURES: ST | EH | SR |WP 

Inspired by a hiker boot design, the Mae ST WP is the last boot on our list. Equipped with a waterproof full grain leather upper the Mae is built to keep your feet protected and dry at all times

The Mae ST WP boasts our Slip Resistant sole technology, which reduces the risk of slips and falls—the hazard of low traction surfaces.

This boot is built to ensure your feet are kept firm on the ground in slippery conditions. Its beautiful leather upper also gives it an elegant and sophisticated feel to suit your style.

At CAT Footwear, we don't compromise on quality and safety; this has kept us as a forerunner in safety footwear for decades. With our latest range, we continue to bring you the promise of quality safety shoes to meet your every need.
For full range of Safety boots and shoes (for women and men) see our website to buys safety boots for sale.